Sinomach standardization expert wins 2022 Thomas Edison Award
(sinomach.com.cn)
2022-07-01
The International Electrotechnical Commission (IEC) has announced the winners of the 2022 Thomas Edison Award. Huang Wenxiu, chief expert of standards codes of Sinomach subsidiary China National Electric Apparatus Research Institute Co Ltd (CEI), was among them.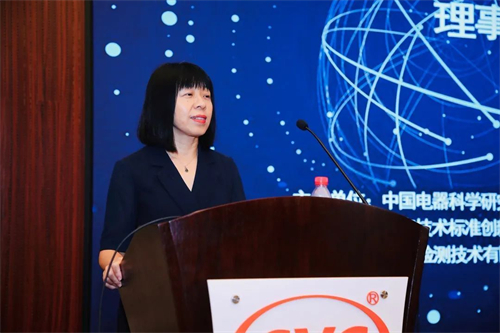 Sinomach CEI expert Huang Wenxiu, who earned this year's Thomas Edison Award, shares her insights on the industry in a speech. [Photo/CEI]
Four experts won the award this year. Huang is the only Chinese expert and the fourth standardization expert in China who has ever won it. The IEC also granted Huang the 1906 Award in 2016 and 2021 for her individual achievements that helped advance IEC activities.
The Thomas Edison Award and the 1906 Award, both created by the IEC, recognize exceptional achievement, dedicated service and significant contributions to the IEC.
The IEC is the world's leading organization for the preparation and publication of international standards for all electrical, electronic and related technologies, which are known collectively as "electrotechnology". IEC International Standards serve as the basis for risk and quality management and are used in testing and certification to verify that manufacturer promises are kept.
As a global, not-for-profit membership organization whose work underpins quality infrastructure and international trade in electrical and electronic goods, the IEC facilitates technical innovation, affordable infrastructure development, efficient and sustainable energy access, smart urbanization and transportation systems, as well as climate change mitigation, and increases the safety of people and the environment.
Huang has worked as a standardization expert in the household appliances sector since 1995. She has organized the formulation and revision of more than 70 international standards, national standards, industrial standards and group standards, and published four technical books.
Huang was appointed as chairperson of the IEC Subcommittee on Small Household Appliances, which is the first time a representative of the Chinese home appliance industry has chaired an IEC technical subcommittee. She continues to make great efforts to explore new technologies in the field and optimize the IEC standards system.